Crafty Christmas Ideas
Paper Plate Christmas Advent Wreath Craft
Your kids or class will enjoy cutting and pasting the leaves on this paper wreath. Attach to card stock or a paper plate, hang on wall or window when completed - or, add one leaf each day from December 1st until Christmas.
Click here for Advent Wreath craft instructions and printable sheets
Crafty Dough Ornaments
Make gifts and decorations for any holiday or special day with easy to make, nontoxic salt dough you mix up in your kitchen and then air dry or bake to harden, or with scented faux gingerbread cinnamon dough ornaments.
Salt dough recipe and crafts, classic crafts for kids and adults
Party Cupcake Crafts - Holiday Party Picks
Cupcakes are favorites for parties of all types, and pretty party picks are an easy
way to decorate these mini-treats. Dress 'em up with custom cupcake party picks made from our free sticker art!
Free stickers - click here to see all the printable cupcake topper designs!
CUPCAKE PICK INSTRUCTIONS Print a sheet of printable stickers on card stock, then cut the small pictures apart into squares. Tape the squares to the tops of toothpicks, and insert one pick into each cupcake.
To make 2-sided cupcake picks, attach two cards back to back to the toothpick with glue stick, sandwiching the toothpick in between the cards.
Click here to view our stickers you can print for this project
Paper Flower Hawaiian Lei Craft
Kids can make this fun hula-ready Hawaiian flower lei necklace from printable cut and color flowers strung onto yarn. Aloha! Get ready for your Luau party!
Your choice of ready-to-cut printables: full color blossoms (see illustration thumbnail at right) or ready-to-color lei necklace activy sheet so you can color your own blossoms!
Click here for easy Hawaiian lei craft directions and printable pattern sheet.
Shop for Arts and Crafts Supplies
Blick Art Materials Gift Ideas

Jim Henson Doodle Book
Shadow Stamping
Shadow stamping is a creative craft you can use to make cards or for scrapbooking - print with geometric shapes or solid stamps in two or more colors, usually pastels, to create a background design for paper craft project.
Click here to learn more tips for paper crafting with the shadow stamping technique.
Crayon Candles Craft
Use up candle stubs and broken crayons to make your own recycled candle gifts. Make Gifts and Crafts from Recycled Materials

Sun Print Greeting Cards
Sun prints are easy to create indoors or out, and easy on the budget. With a few sheets of brightly colored construction paper and a good sunny day you can "print" interesting patterns to cut and fold to make greeting cards with unique designs.
Sun prints are a simple and fun summer craft for kids or adults. What unique designs will you create withcolored paper and the sun?
Click here for directions - Sun Print Greeting Cards
"Cool" Ties & Cooling Moist Headbands
Water absorbing crystals work wonders for plants by helping hold moisture in the soil and releasing it slowly so plants won't dry out quickly in hot weather or during dry spells. You can use those same moisture-holding crystals to make a "cool" tie - a neck or head band you moisten that helps you stay comfortable in hot weather.
Click here for directions to make a "cooling" tie filled with Watersorb crystals.
Tea Bag Folding - Paper Crafts for Cardmaking
Along with the rise in the popularity of tea drinking over the years is the emergence of tea bag folding commonly known as Miniature Kaleidoscopic Origami. Paper tea bag envelopes or tiles made from small squares of print patterned paper are all you need to make a lovely 3-dimensional decoration for a gift tag, greeting card, ornament or bookmark topper. Click here to learn more about tea bag folding paper crafts.
Home Made Crafty Gifts
It's easy to be green and save money making gifts, cards and crafts using materials from your recycle bin.
Easy Bath Salts & Fizzy Bath Powders
Everyone loves pampering gifts for the bath, especially Mom. When they're made at home you know bath softening salts and powders are free of chemicals or irritants, safe for even the most delicate skin.
Click for home made bath spa recipes and instructions
Herbal Bath Scrubbies
Herbal scrubbies are great for removing flaky skin and smoothing knees, elbows and feet.
Make your own spa style scrubbers for pennies from nylon net and organic ingredients - use up left over soap scraps or fill with pure goats milk soap.
Click for bath scrubber directions
Iron Ons: Make a Holiday Tee Shirt
Make a fun and easy Christmas tee shirt or banner, perfect for your holiday cookie baking sessions. This printable iron on set includes a front and a back gingerbread man cookie transfer. Print on both sides of a tee shirt! Or, choose a cute kitten in a stocking or peace dove iron on.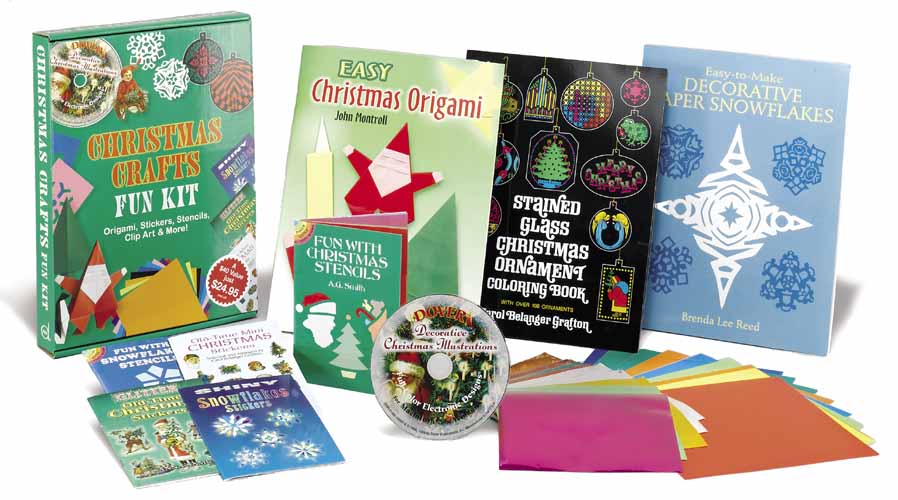 Christmas Crafts Fun Kit - $24.95
from: Dover Publications
Make A Stunning Dried Hydrangea Wreath
Dried hydrangea wreaths are so beautiful and versatile in a home, and a lot of fun to make as well. You can either purchase already dried hydrangea flowers from your local craft store, or you can dry your own.
Click here for complete instructions and design tips to make a dried flower wreath
Printable Calendars

When you click the link below a new window will open displaying a Pastiche Printable Calendar for the current month, complete with a seasonal photograph.
Hand Made Scented Greeting Cards
Craft your photographs of garden images into delightful scented cards, bookmarks, writing paper, and more for gifts to family and friends or to sell in craft and gift shops ... click for full article and instructions.
Poetry Stones and Polished Sea Shells
Here's a neat idea for a project you can give as a gift: poetry stones. This crafty gift is very basic and simple to make, yet when finished makes a lasting expression of your thoughtfulness.
Photo Tips For Scrapbookers
Taking better photos doesn't have to be a chore. By putting just a little more thought into your photos before you snap away, you can capture those special moments with ease.
Click to read the photo tips article
Knit a Stylish Pet Sweater
You can knit your dog a lovely custom sweater with this excellent pattern - photos included! Click here for dog sweater knitting pattern and instructions.
Design Cool Fabric Crafts From Clip Art and Coloring Page Illustrations
You can use clip art to make your own custom fabric applique patterns. Or, use the same technique with printed papers to create unique collage designs for posters and greeting cards.
Click to browse our coloring book pages with hundreds of line art drawings that are suitable for use in creating fabric embellishments, iron ons, appliques, and fiber art patterns.
Embroidery embellished jacket using coloring page art as a pattern.
Holiday Craft Patterns & Articles
Arts & Crafts Calendar
Valentine Crafts
Frugal and Fabulous Valentine Crafts resources!
Get a Jump on Easter Crafts & Decorations
Hop to it and start crafting your spring decorations and Easter cards with free craft printables. Download Easter clip art to make gift tags, decorations, programs, and greeting cards from spiritual clip art or bunny, egg and peep chicks playful Easter graphics.
There's even a printable sheet of eggs to decorate, and a full color spring tree poster printable to hang (glue) them on.
Visit our Easter Printables to find gift coupons, cards and craft freebies. And don't forget to prin tout a few Easter Coloring Book pages for kids to make their own cards and decorations.
St. Patrick's Day Crafts
Design your own St. Patrick's day holiday decorations, gift tags, party favors and greeting cards with our free clip art. You can make stickers, bookmarks, iron ons and labels for St. Patrick's Day gifts and party favors.
No time to design - no worries - we've got ready to print cards, bookmarks, stickers, decorations, scrapbook art and more in our collection of all St. Patrick's Day Printables.

Safe, homemade art mix recipes
More Crafts!