Favorite Christmas Cookies Recipes
It's that magical time of year again: snowmen, Santa, gifts, family, friends, the scent of pine, crackling fires, frosty windows, turkey, pie and cookies.
Here are some of my favorite Christmas cookie recipes.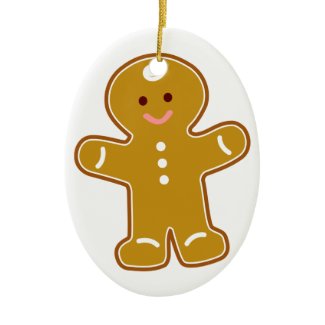 Gingerbread Man Keepsake Ornament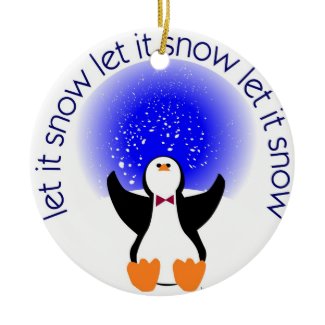 Let It Snow Penguin Ornament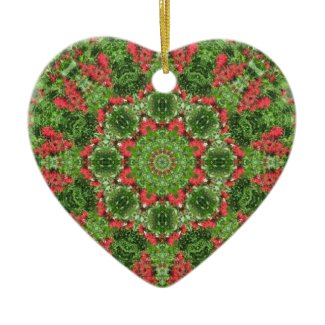 Christmas Peace Mandala Ornament by imagefactory

Browse more Christmas Ornaments
Walnut Crescents

1 cup soft butter
1 cup icing sugar
2 tsp. vanilla
1/4 tsp. salt
1 cup chopped walnuts
1 3/4 cup flour

Chill dough for 1 hour. Divide into 8 pieces. Roll into 1/2" rolls. Cut in 2" lengths. Taper ends & shape into crescents.

Bake for 15 minutes at 300F. Yield - 4 dozen

Gingerbread Cookies

1-1/4 cups margarine
2 eggs
2 cups sugar
4 cups flour
2 tsp. cinnamon
2 tsp. ginger
2 tsp. baking powder
2 tsp. cloves
1/2 cups molasses

Cream margarine, eggs, molasses and sugar. Sift dry ingredients in a separate bowl. Add dry ingredients to liquid ingredients. Roll into balls and dip in sugar or roll and cut out desired shapes with cookie cutters.

Bake 10 minutes for round balls and 8 minutes for rolled cookies at 350F. Let stand before taking out of pan.

Cookies will be soft but will harden as they cool. These aren't a really hard gingersnap (unless you overcook them!!).

Apricot Almond Thumbprint Cookies

1 cup butter
1/4 cup sugar
1 tsp. almond extract
2 cup flour
Ground Almonds
Apricot jam or jam of choice

Cream butter, sugar & extract together. Add the flour. Shape into teaspoon size balls.

Roll in ground almonds. Indent centers and fill with jam. Bake for 10 - 12 minutes at 350F. Yield - 4 dozen.

Brownie Bites

1/3 c brown sugar
1/4 c butter
3 oz semi-sweet chocolate
1/2 tsp. vanilla
1 egg - lightly beaten
1/3 c flour
24 chocolate rosebuds

Over low heat melt sugar, butter, and chocolate. Stir until chocolate is just melted. Remove from heat and let cool for 1 minute. Blend in vanilla & egg. Fold in flour until just blended. Spoon into tiny baking cups.

Bake at 350F for 10 - 12 minutes or until set. Remove from oven; set rosebud on top of each. Let cool.

Makes 2 dozen. Can be frozen.

My Mom's Shortbread

1 cup soft butter
1/2 cup sugar
2 1/2 cups sifted flour

Thoroughly mix butter and sugar. Stir in sifted flour (set 1/2
cup aside & add if needed). Mix thoroughly with hands.
Roll into two logs. Wrap in wax paper and chill for 2 hours.
Preheat oven to 300F. Cut into slices and place on cookie
sheets.

Bake on ungreased cookie sheet for 20 - 25 minutes.
Yields 2 dozen.

Variation: Roll out and cut with cookie cutters, place on cookie sheets, cover and chill for 2 hours. You can decorate your cookies with sprinkles, chocolate chips, raisins or candy decorations (smarties) before chilling. Bake as above,
And, if you don't have time to bake this time, don't let it bother you.
Find a bake sale or a bakery, buy your favorites and relax and enjoy the holiday season with friends and family. Who says you can't bake shortbread in July when you have time?

ABOUT THE AUTHOR - Wendy Kennedy owns and operates http://www.CanadianCountryGifts.com
Sign up for her free biweekly newsletter by sending an email to ccg-request@newsletter.cndcountrygifts.com with `sub' as the subject.