Women Who Work Out Live Longer
Fitness & exercise can stop your muscles from wasting away and strengthen bones, plus improve flexibility and enhance your mental sharpness. Click to learn more
Stay Stylish After 50
Being over 50 does not mean women have to give up on having a sense of style, especially not plus size women! In fact plus size mature active women should make the most of this time in their life.
With the right clothes any plus size lady over 50 can look like a fashion diva and feel like a million dollars! Click here for tips and suggestions ...
Mind Stretchers
Top 10 Power Foods
According to a recent article by AARP, foods such as avocado, salmon, apples, and chicken are supercharged sources of health and energy. Read all about it, and get some yummy recipes at the AARP web site.
Visit our Recipes section for tried and true family favorites for everyday, and for holidays. Yes, you can eat well on a tight budget.
Pets - They're More Than Companions
Dog owners know their pets are more than just animals. In fact, animals are highly sensitive and they experience emotions and stress just like we do.
Aromatherapy
Try these easy to prepare recipes to ease stress during troubling times, enhance good feelings, promote wellness, and raise comfort levels.
Senior Resources
AARP's Grandparent
Information Center
BenefitsCheckUpRx is a confidential screening tool that is a major expansion to NCOA's BenefitsCheckUp® Web site. Click here for more info about this free service
National Institute of Health - Senior Issues Pages
Give Your Computer a Checkup Right Now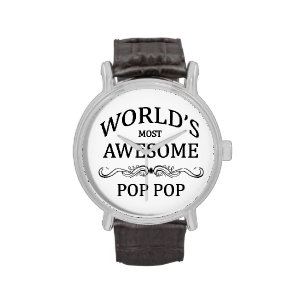 World's Most Awesome Pop Pop Wristwatch
by
cheriverymery
See other
Wrist Watches
online at Zazzle