Pets Coloring Pages and Printable Posters
Full size printable pet coloring pages and animal pictures to color - this collection of printable animal coloring pages includes fish, lizard, dog, cat, snake, bird, and a pet friends poster. There's also a set of lost pet poster templates, if you ever need to find your lost cat or lost dog.
Use these basic animal line drawings for other crafts projects like quilting, embroidery, applique, kids room decor or classroom decorations and games or for coloring crafts designs.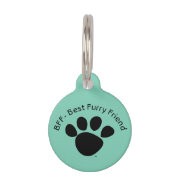 BFF ID Tag for Small Pets by bluestonedesigners
Find another Pet ID tag online at zazzle.com
Follow my Twitter feed - sample tweets below.