Mother's Day Cards to Print, Craft and Color
Make greeting cards for your Mum or Mom or grandmother to give on Mother's Day holiday.
Choose ready to print full color Mother's Day cards to fold and personalize, or ready to craft Mother's Day coloring cards in 6 different print and fold designs.
Greetings on printable cards include word art with Mother, Happy Mother's Day, World's Best Mom (or World's Best Mum), Mom in a heart, Heart framed Mum, Queen for a Day and Happy Grandmother's Day.
FULL COLOR Mother's Day Cards
This set of printables needs only to be printed, cut or folded, and personalized.
Mother's Day Coloring Cards
Pick your favorite designs from our coloring cards, print them out and then color in and add your favorite embellishments to make a very personal Mother's Day card for your favorite mom, mum or grandma.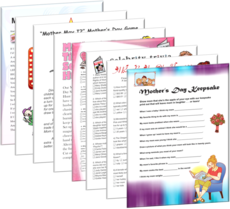 Mother's Day Games Printable Set - $19.95
Follow my Twitter feed - sample tweets below.
Shop Zazzle for Personalized Mother's Day Gifts and Wrapping Paper

Related Pages
Find more cards, crafts and creative project resources on these pages:
LMH11APR16