When it comes to redecorating, I tend to go with paint over wallpapers. Paint is less expensive and more versatile for decorating than wallpaper. It's easier to apply and faster to change when you want a new look or your child grows out of the current design.
With paint, you can add creative patterns and special effects if you want, and you can also add texture if that's your desire.
Whatever style you decide on, be sure to paint the walls with a good brand of scrubbable low-VOC paint so you'll create a healthy, easy to clean environment for your child's domain.
When my younger daughter was about 7 years old she was in love with rainbows (still is, more than 40 years later).
We painted the walls of her room in a soft, sky blue, then I sponged on white clouds and added rainbow stripes around the top of the wall. We created a rainbow room that was restful and her very own idea.
Try using peel and stick repositionable wall stickers, decals and letters to decorate your child's room with a theme or favorite poems or quotes - or their name!
There are many options in wall decals today, including complete custom designs cut into special shapes with your choice of colors or patterns.
Find thousands of interesting and fun wall decals for children's room decor at Zazzle.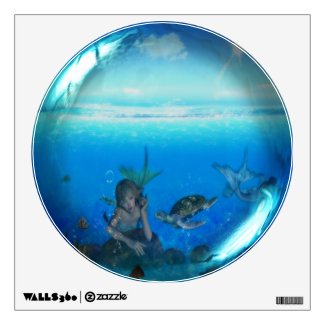 Mermaid & Turtle Glass Sphere Wall Decal by GroovyGraphics
Design your own
custom wall stickers, too!
Choose Safe Paints with Low VOC
For wall finishes in a kids room, paint is forgiving, washable and nontoxic. Use a reputable brand of paint with low-or no-VOC paints in your child's bedroom; try using milk paint on the furniture and wood trim.
You can create all sorts of interesting murals or wainscotting effects with paint - fences, flower gardens, seashores, planets, animals, roads and more.
If you're not comfortable painting free hand, try using stencils or patterns cut from coloring page art projected or enlarged to the size you need.
Sponge Stencil Shapes
To paint designs with simple shapes such as diamonds, stars, hearts, moons, zigzags, bugs, butterflies and flowers, use an inexpensive sponge cut into basic shapes.
Or using the stencil idea, cut out shapes and let kids help sponge on the paint inside the stencil shapes.
Chalkboard Paint
If your creative kids love to scribble on the walls, try adding a coat of chalkboard paint to the lower section of a wall and let the kids express themselves any time at all.
DIY Chalkboard Paint Recipe
You can buy chalkboard paint in a number of colors, so you're not tied into using black or you can mix up your own chalkboard paint in any color you want. Simply mix 1 part sanded grout with 8 parts latex paint to create your own DIY chalkboard paint.