There are many blogs, web sites and magazines that seek fresh designs by folks just like you to help out their readers ... so think about submitting your scrapbook layouts for publishing to make a little money or get a bit of traffic to your blog or web site.
If you have a flair for scrapbook page layout design, you can get your custom designs published in paper crafts books, scrapbooking magazines, newspapers, or at online scrapbooking sites.
You need to feel comfortable with submitting your work for critique, and you also need to be prepared for the eternal artist's fear - rejection. Look at a rejection notice as inspiration to try again at another publication or to improve your work. Don't take it personally, except as a challenge to succeed!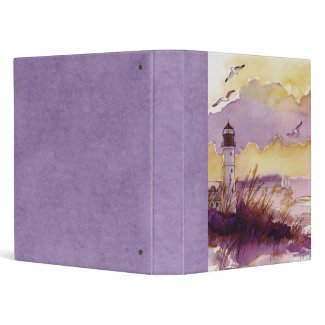 Lighthouse Family Scrapbook
Make a
custom ring binder
at zazzle
So many great ideas get submitted to publications every week that they can only use a few of the hundreds of scrapbook page layouts and paper craft ideas they receive. Plus, they're often in search of a particular look or theme and unless you submit in response to a call for entries your scrapbook layout may be overlooked at the time you send it in for consideration.
Try to find publishers calls for design or requests for submission that match your layouts and style, then submit your designs to those requests. Be sure to follow submission requirements carefully or you'll risk the chance of your submission being rejected simply because your package failed to comply with the publisher's guidelines.
A creative publishing submission package is a lot like a professional resume. Publishers look for consistency in the packages to make the evaluation process go smoothly. They'll often reject immediately any submissions that are incomplete or don't adhere to the guidelines and requirements.
They do this to weed out some of the volume and to screen potential scammers and spammers.
So, follow the requirements, prepare a quality submission package that shows how great your layout ideas are, and go for it!
Guidelines for Submitting Scrapbook Layouts to Publishers
1. Only Submit Original Work and Ideas
This is obvious, but also very important. All submissions should be your own idea and original work. If you use any materials from a designer, even with license to do so, state what you used and who owns the copyright clearly in your submission.
2. Put Your Information on Each Page Submssion
Include your name, phone number, address, e-mail and blog or web site (if available) on each page submission.
3. Describe your design and construction process
Write detailed instructions, step by step, about how you got your idea and how you constructed each page.
4. Provide product information for everything you used to design and create your page
List all brand names, products, colors and other details for any products you used, including papers, tools, templates, clip art, digital or rubber stamps, pens, stickers, ink color, equipment, software, fonts, miscellaneous embellishments, binders, protector pages and adhesives.
Preparing to submit your scrapbook layouts to a publisher
The first step in getting published is sending the publisher - print or online - a copy of your original layout. You should never submit your original; if you are selected for publication the publisher may request the original and also require that you sign a release form.
You'll need to create a copy or preview of your layout design. Many publishers want to see an electronic version of the scrapbook page layout design. Others might want to see a good quality photograph, again in digital form.
You can sometimes send hard copy submissions to a print publisher. In that case you can print out either a digital version of you design marked clearly that it's a sample - with your copyright on the page, or a digital photograph of a finished page made with traditional or hybrid techniques, or you can scan and print your finished pages or get color copies made of them.
When taking photos or scanning assembled pages, remove them from the plastic page protectors.
However you submit your layouts to the publisher, be sure to follow their instructions for submission properly. This includes the DPI or resolution of the digital files, print size of the review pages, and other details including submission forms and contact information. In general you won't be asked to send high quality digital files unless they accept your layout for publication. Always be sure your copyright information is visible on a preview copy you send for consideration.
If you're sending a physical package, again, follow the publisher submission requirements and include a return envelope with postage if you want to get your package back.
If you're making copies or prints from 12" x 12" pages you'll need to reduce them to fit on standard letter size paper. Be sure to note in your package that the images have been reduced from the original size for review purposes.
Scrapbooking Articles
Scrapbooking Goodies