Fairies and elves are a delightful choice for decorating a child's bedroom, nursery or play area.
Plan a tea party, birthday celebration or play day around a fairies and elves theme with fairy princess party invites, fairy tale party decorations, fairy princess costumes, favor and magical fantasy activities galore.
Have each guest craft her own flower halo crown and magic wand. If you're really ambitious or the kids are old enough, you could even have each girl craft a set of fairy wings.
It's all about the little details that focus on a fairyland atmosphere for your child.
Choose crafts and games with a magical motif or modify existing favorites such as pin the tail on the donkey or musical chairs to follow a fairy theme. Create a "Pin the Wings on the Fairy" or "Give the Fairy a Magic Wand" game.
Set the table with dainty small bunches of flowers, flowing ribbons, glittering stars and fairy-small treats.
Serve fruited herbal teas (no caffeine) or lemonade with a spritz of cranberry juice in little china cups, cut out tiny sandwiches (crusts removed from the bread) with cookie cutters.
Offer each guest magical beans (jelly beans or gummy beans) and sugar cookies wrapped in fairy print fabric or tulle netting tied with narrow ribbons.
Finally, read a favorite fairy tale to cap off the end of a perfectly magical day and calm things down a bit before sending all the fairy princesses back home to their own castles.
Fairy Treasures - Where to Find Them
Fairy Links and Pixie Fun
Fairy Wings Art

March 17 is the traditional day for rejoicing in fairies, leprechauns, faeries, elves, wood nymphs and their magical cousins.
Now there's a special official Fairy Day in June! We like to think anyone can enjoy fairy princess fun any day of the year ... enjoy the magic!
Fairy Letters and Secret Messages
Fairies and elves use mystical symbols and pictograms to communicate without words about who they are, what they experience or where they come from.
You can design your own pictograms using any of our free clip art images or iron on transfer art. Make a fairy message from flowers, animals, nature symbols, letters and free form designs.
Fairy Fashion Dress Up
Princess gowns and fairy outfits are in the girls favorite fancy dress costume choices for birthday parties, masquerade or Halloween, while boys prefer scary creatures ... trolls, ghouls, and monsters.
If you want to make gift bags, tee shirts, totes, scarves or sashes with a fairy theme for your little princess or pixie, we have lovely girls clip art and iron on transfers that are ready to print.
Fairy Coloring Book
Fairy Links
Fairy Clip Art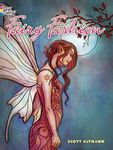 Fairy Fashion - $3.99